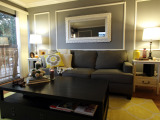 13 photos, 10,830 Views, Flag
When I moved in it was a typical apartment and I had typical 20 year old college furniture. White walls and Ikea everywhere. I spent a month or so designing the entire space on a 3D program, making changes, getting inspiration everywhere I could find some. Many of my furniture I found on Craigslist for a bargain and it was either painted or otherwise refurbished to fit my space.

When I moved in the space where my book case exists was just an empty recess in the wall. Obviously I had to build a bookshelf in there.

I installed the picture frame molding myself and swapped all of the light fixtures and wall fixtures.

The light above the dining table was a CL find. I painted it black, extended the chain, omitted the shades and crystals.

The china cabinet was a $100 CL find. Built by the original owner's grandfather. I painted it white with a grey back on the interior to offset white china.

The fireplace was a $50 CL find I painted it white, added a wood medallion, and built an enclosure on the back so the fireplace would not be open to the wall making it a little more realistic.

The mirror above the couch is a beautiful mercury glass mirror from around 1900. My dad found it in an estate he bought. He painted it white and gave it to me as a gift.

Couch, rug, dining set, side tables, and accent chair are new.