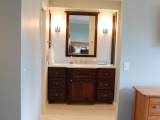 16 photos, 2,310 Views, Flag
The master bedroom/bathroom in our 1986 builder grade home was in great need of an update and reconfiguration of the space.

Our GC did a fabulous job of transforming our vision for the room into reality. We re-allocated space from one closet into an expanded shower/toilet area; added a second walk-in closet in an under-utilized portion of the bedroom which also created a new wall for our wall-mounted flatscreen t.v.; added a gorgeous new custom vanity with White Carrara Marble countertop; updated the small windows on each side of the vanity to rain glass for privacy; changed out the two front bedroom windows to three efficient, single-hung windows; added radiant heated 18"x18" porcelain floor tile in American Olean Coliseum White; shower floor is AO Coliseum White mosaic; shower wall subway, harlequin, and classic tile is from the Daltile Rittenhouse Square series; and faucets, hardware, sink and toilet are from the Kohler Devonshire series.

I've laid out the following fifteen photos in a before/after sequence.