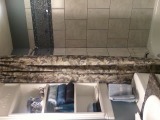 12 photos, 4,011 Views, Flag
This bathroom desperately needed help. The bathroom is in a 70's house and is very small. The tile job is bad and the vanity is too large for the space. The tile has plastic wood trim and lots of caulk around it which makes me think that the tile job may be much worse than it looks on the surface. I am going to find out what lies beneath.

I striped most of the walls down to the studs and started installing my new blue bathroom. The mosaic tile took a while to put together. After that everything went up fairly easy. Replaced the vanity, counter, toilet, medicine cabinet adding trim around and to the ceiling. I added storage shelves recessed in the wall with trim to the ceiling to match the medicine cabinet and vanity, which I had added decorative wood to the door and drawers. The only thing that was not replaced was the tub which we had refinished to match the toilet and sink. The piece of granite for the counter was actually given to me as a 36 X36 at a granite fabricator. The man thought I would not be able to do anything with it (He was so wrong) and I thank him very much for my granite counter top. I cut it to fit the vanity, did the rock finish edging, and cut the hole for the sink in just over an hour. I had a budget of $900.00 for the bathroom. Doing all of the work myself with the exception of refinishing the tub I spent $846.98 to totally redo this hall bathroom. Could not have done it at all if I had to pay for demo and all of the instillations of medicine cabinet, counter, tile floor and shower, mosaic, built-ins, vanity, sink, toilet, faucets, Just the custom mosaic would have taken my budget.