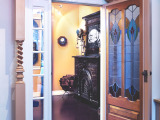 10 photos, 1,140 Views, Flag
Restoration Resources, Renaissance Interiors, MLA Consultants, Bruce Rosenbaum, and Audio Concepts in Boston collaborated as a Steampunk by Design team and created a Steampunk Home Theater Room at Audio Concepts. We named it the Jules Verne room, Steampunk objects run the gamut from practical and conservative home furnishings to fanciful techno objects. These one of kind pieces creatively integrate old and new while adding a vintage cool vibe to any location. Steampunk is eco-friendly. The goal was to combine the best of old world craftsmanship with
state-of-the-art technology for modern day living. The concept is gaining widespread popularity throughout the residential design field.

Steampunk admirers have an appreciation for the quality, craftsmanship and authenticity of antiques, as well as modern technology and conveniences. Audio and video components have been blended with recycled and repurposed period objects into the overall design scheme of our Steampunked Jules Verne room.