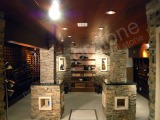 8 photos, 8,955 Views, Flag
TO DO LIST... Renovate basement by the weekend.
-Monday- Order Norstone 100% natural stacked stone rock panels-CHECK;
-Tuesday- Sweep dirty rotten nasty basement before wife beats me senseless.-CHECK;
-Wednesday- Rock Panels delivered to my door ...great concept-CHECK. -Thursday and Friday-Install 300 sq ft (easy install, no spacers or grout just a 1/2 inch trowel and thinset 1 sq ft at a time-CHECK.
-Saturday- buy some wine and a good cork screw-CHECK;
-Sunday-Pop a cork or two, Relaxxxx and pour my wife a few glasses of wine...She loves me again-CHECK... Basement completed.