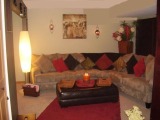 17 photos, 595 Views, Flag
A family room located in the rear of the house, right off my outdoor patio. The ceiling fan is original to the house and yes it will be removed and replaced by a modern light fixture. This space is all done in a few different types of mixed Asian eclectic pieces, but more specifically is concentrated on the Japanese styled pieces. This space included a Japanese oil painting shown that I still have yet to have wood framed. I've added a real cute little Japanese Geisha Girl statuette that adds to the decorative pieces within the cherry wood/mahogany entertainment center shelves. Details, details, details are the keys to my own personal style of decorating. Well on my HGTV "What's your Style" quiz, mine came back that I'm ECLECTIC, which they say means I like to match colors, and the test is right! Take a peak and you'll see.
I HOPE YOU LIKE IT ! BE INSPIRED!