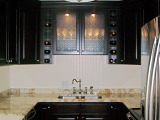 11 photos, 3,812 Views, Flag
A traditionally styled kitchen done in a contemporary color palate. The perfect blend in a small but stimulating space that has yet to be accessorized.
We are quite pleased with the result, considering the size of the space we had to work with. This was obviously a complete gut job that took close to two months time, from initial planning to completion. We decided on java colored maple cabinetry and a Wayne's cotting backsplash painted in a buttery cream. We placed a piece of furniture under the window, mainly due to the sill being lower than standard counter height, that ultimately became the centerpiece and inspiration for the space.
The shaded light fixtures provided the perfect touch of modern sophistication, while the tin backsplash, glass, and roman shade helped us achieve that elusive balance between modern and traditional.