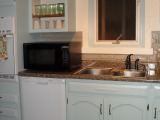 3 photos, 314 Views, Flag
I painted the cabinets a soft aqua blue, and the walls cream. The valances are made from blue silk napkins and a shell button.

If I had a bigger budget, I would have redone the whole kitchen. Unfortunately, I just don't have the funding right now. So, I just painted the cabinets, have replaced the appliances, countertops, and sink, and put in a nice wood laminate floor that looks really good. Once I finish the facings on the bottoms of the cabinets, I will be done. I absolutely love it - huge improvement!