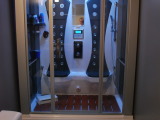 5 photos, 682 Views, Flag
Our townhome's master bath was made in the 80's....and had not been redone since! It had a small bath/shower unit that looked like an irish springs soap bar, a single vanity and a wall mirror. It was a hidden and used as a junk closet for a few years there out of embarrassment... We began working on it in April. ("we"=my husband)).

We found a self-enclosed steam shower unit from a local dealer advertising on Craig's list. The dealer was trying to clear a showroom of 2008 units. While there, we found a modern double vanity with vessel sinks for less than $800....in addition, found a jacuzzi tub....for a steal. We were on a roll off of Craig's list, where we found a nice low-profile (working, not cracked) toilet for about $50 (changed the seat :)...), and also found bamboo hardwoods for less than $60 to cover our entire <100 square feet master bath. We picked up a mirror from Ikea for less than $60, and there we go! Our pendants came from home depot and my husband put in recessed lighting on a dimmer. I found the fixtures off of West Elm's clearance "aisle" off their website.

My husband did all the plumbing (copper, PVC), hardwooding, and crown molding (unfinished at the time in the pictures) by himself during his off-time from work. We love our new bathroom!!!