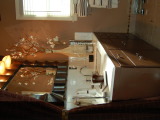 10 photos, 7,955 Views, Flag
This is a guest bathroom redo that was done for UNDER $1000.00. It was a 50's style bathroom that was never updated. Redo includes painted tile on vanity and shower, added feature wall in shower, seperated toilet from vanity with fabric, faux beams on ceiling, unique mirror and light fixture, new accents and new tile on floor with a personal design created by me!
UPDATE: WOW thanks for the response. It IS greatly appreciated!!! To answer some questions, I'm not sure what the wall color was called but its BEHR paint from Home Depot....I'll check and post later, as for water damage to the mirror in the shower, I simply sealed it with the same sealer I used on my deck. Everyone can find great deals if you just look for them and have some imagination. Clearance sections and discount stores like Home Goods, Ross, Marshals, etc. can be your best friend when decorating on a budget. Again I really appreciate all the response.