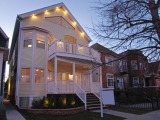 13 photos, 2,539 Views, Flag
This property I just finished up in Chicago's Logan Square. It's set on an oversized lot. I started with fixing the siding and then ripping down the siding and then redoing the porch, building the landscaping wall. adding accent lighting etc...

This is setup for a multi-unit dwelling, but i designed the layout, so that you could simply take out the right had door and open up the wall to be a single family home.

WHAT DESIGN STYLE WOULD YOU GUYS CALL THIS?

The master bath turned out great and I am very pleased, so I'll attach a few pics of the interior too.