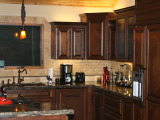 23 photos, 12,520 Views, Flag
Our home is in a ski area and it backs up to a greenbelt on the mountain. When we bought it, my husband said it looked like Laura Ashley lived there - so it needed (still needs) a lot of work. For the first phase, we completely rennovated the kitchen and modified the living area. We changed a closet holding the washer/dryer into a wetbar, added hardwood floors with stone trim, and updated the entertainment center. The house was very dated as it was built in 1989.

We changed out the windows and removed one of the the two sliding back doors and turned it into a large window. There is good natural light in the daytime. Most of the pitures were taken at night and seem a bit darker than reality.

We replaced the wooden chair railings with custom iron railings. The wall with the entertainment center had slanted notty pine which was removed to lighten up the room.

It's a small area but very cozy. We love spending time there cooking and entertaining.

We did the remodel in 3 phases to allow us to use the house during ski seasons and summer. The next phase was to remove a bedroom wall to make a home office. We extended the garage and added a front deck including sliding glass doors.