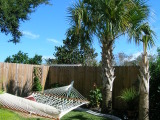 21 photos, 639 Views, Flag
Gecko approved! From YAWN to private retreat in small yard. Look through pictures, then read about the process below. Proves yard doesn't have to be large to make a style statement and create a mood! (See BEFORE to appreciate changes and MORE in PATIO collection for related – context.)

The process:
DEMO -
1. Took out property line trees and chain link fence, also removed three small trees (including stump grinding) from my back yard to clear the slate. Nurtured grass back to that part of yard.
2. Dug many weeds to the roots (some seriously wicked weeds) and cleaned up a gnarly, neglected back property line space. (This took a lot of sessions over 2007 summer.)
3. Removed leaning pine from caddy-corner neighbor's yard (with permission-by pros) leaning toward my new house. 4 properties benefitted from no more needles, particularly by Back Yard neighbor with a pool (filter routinely clogged). These pines are not storm tolerant to say the least.

REBUILD / foundational PROGRESS work (2007) -
1. Privacy Fence and irrigation system added, with bubblers for palm trees (hired pros).
2. Planted 5 SABAL Palm Trees (hired pros) in a stretched dice pattern across back. (The FL and SC state tree – storm resistant.)
3. Added solar (but bright) uplighting to palms (tested several before finding some bright enough – they're LED) – also in front.

Bed Plantings (2008)
1. White Oleander for additional green, natural fence, white blooms, around center palm. (See how small they were when planted and watch them grow over one season!)
4. Clematis varieties at each back corner with a trellis. They are vines that pack a big punch of color when they bloom and come back every spring. (Have 1 6" bloom at 1-2-09, even though most of the vine has browned out for winter. It's not dead.)
5. Split leaf philodendron back left from a sad start (see before pic) that was given to me by a friend that moved away. It was indoors in a pot and not looking hot. In one year outside, it's become incredible and thriving! Plant lovers – DO take a look…
6. Bird of paradise back right. (Gave it room to grow, anticipating growth explosion next season!)

Hardscape (2008) - Added continuous concrete border in curvy pattern to offset the back bed (also did front beds).

Incrementally CONTINUED THROUGHOUT –
1. Forever (it seemed) dug out sod FOR the EVER – expanding & shaping landscape beds (front and back) throughout the process. Trust me when I say this is harder than it sounds, particularly in Florida heat, in the short window between work and dark. Result paid off! I reused the sod in various spots around my yard and donated to other people's yards to fill bad spots.
2. Built the beds RIGHT with landscape fabric and mulch for weed stop.