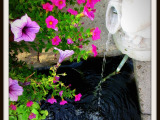 48 photos, 1,348 Views, Flag
Newly built water feature finished in late October of 2010. We are excited about getting it running in the spring with plants, fish and pump.
Now in 2011 we are seeing the fruits of our labor in the flowers blooming around the pond. Fish survived our first winter with a blizzard and 22 inches of snow. They all made it through it and are now swimming in the sun. They have even spawned and we have young fish in the pond, complete with a duck every now and then and even a Blue Heron..yikes, NO!