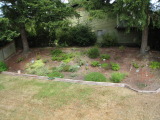 6 photos, 100 Views, Flag
We had high hopes for our large backyard when we purchased our home, but our attempts at bringing it to life have been lackluster. The planting area has poor soil due to the fir trees above and gets a heavy dose of direct sunlight in certain sections. Many plants which we would expect to thrive under trees do not such as Oregon Grape and ferns. The only plants that we consistently have luck with are Lavender and Rosemary, but we would like to have variety so that there is something in bloom throughout the summer to maintain color. We also have an abundance of weeds which we don't get around to addressing due to having 2 young children and very busy lives.

We also have a drainage issue: our home is located on the lower portion of a hill, so all water from the houses above runs down and pools in our yard. We are not sure of the best approach to tackle the drainage issue.

Finally, there is the question of the fence: we replaced a portion of the aging fence, but then halted work because we couldn't decide whether or not we wanted to have a fence along the street. Without a fence, our backyard gets more light, is easier to mow, and is more secure. However, if we did have a fence, it would be easier to let the kids play in the backyard with less supervision.