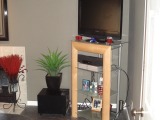 25 photos, 165 Views, Flag
We changed what was a Master bedroom connected to a Master bathroom into a full Master Suite. We took up the carpet and put in cement floors, we took out the large window and put in french sliding doors to give access to the deck and the backyard. The firplace is open to the Master bedroom and the Master Bath and we put in grey/red glass and took out the gas logs. We took the bathroom down to the studs and moved the toilet and took out the bathtub and made a his and hers (his) bathroom with a full walk in showers on both sides of the back wall.
The final part to this Master Suite is the bed- we are using a make shift bed for now as we work toward our dream (and final piece) bed made of iron (cost for bed is $3,000.00) after spending $32,000.00 on the Master Suite makeover it will take some time to get the bed.
I am posting a picture of the bed so you can get an idea of what the final room will look like.