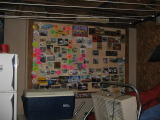 11 photos, 101 Views, Flag
As you can see we have completed 1/2 of our basement turning it into a confortable family, kids play area & fun room. Doesn't everyone have a car engine & a gas pump from years ago in their basement? My husband collects old radios & as you can see we have had our share of collector cars. He usually changes cars every 2 yrs or so, my lucky to still be around ( 42 yrs. in Sept).
But then you go to the other side of the basement with its 70's bathroom, washer, dryer & lots of other good stuff.
We need your help to make this side of the basement as nice as the other.
Wouldn't you like to come to Neenah???
I'm sure our city would be more than happy to see you & I know I would.