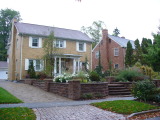 10 photos, 696 Views, Flag

This project is considered one of the most exciting and unique residential environmental projects of its kind in the mid-Michigan area. This project is the first residential sustainability project in the mid-Michigan area that helps protect our water resources. The homeowners are very committed to doing their part to help the environment. They chose to undertake this project as a way to demonstrate and teach the mid-Michigan area, as well as the world how we can have a beautiful hardscape and softscape, but greatly reduce our impact on the environment. All of these Low-Impact Design (LID) elements work together as storm water management tools.

The project features magnificent Allan Block retaining walls and decorative pillars encompassing the entire front yard and a set of beautiful, custom, curved steps at the city sidewalk. The downspouts on the front of the home were designed to drain into two gorgeous rain gardens filled with perennials and ornamental grasses. Belgard 'Subterra' permeable paver landings and walkways create the beautiful random cobblestone surfaces that lead you between awe-inspiring pillars through the front garden down a ramp to the permeable paver driveway. The front concrete city sidewalk was removed and replaced with permeable concrete.

This project broke ground on the morning of August 15, 2008 and was completed Saturday, October 4, 2008.