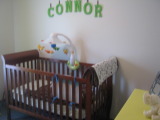 7 photos, 287 Views, Flag
This is Connor's ( 7 months) nursery. It's a low-budget nursery to be sure!! The dresser is on it's 3rd owner (my grandma had it, then I had it, and now my kids share it). I repainted it (it's not that great...haha) yellow because we don't have great lighting in our apartment, and I wanted something bright in the room. I really wanted yellow curtains, too, but apparently those don't exist...so, I went with green from Target. I got the changing table (which I love!!) for $20 on craigslist (yes, that is a bookshelf hidden behind the changing table...very small apartment trying to house four people. Sigh). The only new piece of furniture is the crib which everyone at my work pitched in and bought the baby as a shower gift (you guys rock!!).

Overall, I really love the nursery, especially his name above the crib which my friend, Lisa, made for him as a shower gift :) The theme is supposed to be dinosaurs, but I guess it's not as popular a theme as I thought it would be. I did manage to find a few things to match the theme, though.

Hope everyone likes it!