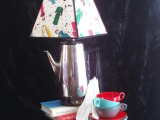 6 photos, 104 Views, Flag
These clever lamps are made of vintage melmac cups and saucers in various silhouettes and classic colors....topped with a custom retro inspired, hand-made 3 or 4 panel shades with and understated trim (and optional coordinating beaded trim) around the bottom.

The feel of these pieces is reminiscent of the 50's and 60's....when life was much simpler with Wally and the Beaver, or Lucy and Ricky-- and life's drama seemed less global and revolved around 'General Hospital'.

These lamps are a simple reminder of Philco black and white console TV's that would hum when they were on, and go to a white dot in the center of the screen for a couple of minutes before it was completely off. A time when Laurence Welk was one of the reasons for gathering at 7:30 on a saturday night with the family over a dish of vanilla ice cream and sugar cookies...hoping to see Joann Castle or the champagne queen, Norma Zimmer.

If that was your time, this should be in your kitchen! Makes a perfect gift for coffee lovers!

As time progresses, the lamps get more fun and creative!

Above: "COFFEE WITH JACKIE"

This tribute was a lot of fun to put together! Built on a repurposed lamp frame with the base covered by a turqoise bowl;there is another inverted green bowl and saucer in the front. The book titles are "What Would jackie Do?" "The President is Coming to Lunch" and "Why Not Everything?"

The stack of mismatched cups (note the different sillouette in the handle shapes) and saucers are fixed to the lower book. The lightbulb is at the top of the found percolator, underneath that custom, 4-panel lampshade covered in the glamour that Jackie was known for- perfect 2-piece suits, styled handbags and understated hats on a red polka-dotted background. And if that wasn't enough, the white elbow-length opera gloves ad to the curiosity of this piece. Remember, if you pick up the percolator by the handle, the entire piece picks up!

I think Jackie would be proud- even though her life was much more than this. Line switch; titled, signed and dated.