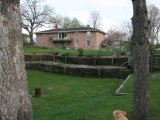 7 photos, 137 Views, Flag
We and our neighbors are at a loss for what to do in our very hilly, forested full of wildlife backyards. Our lots are each 1.25 acres. My husband and I purchased our home in 2005. It already had railroad tie landscaping done. Recently we've found the railroad ties are rotting. I also fell in the middle of July and broke my right leg in the sloping upper garden. Now our once pretty flower/veggie garden is full of nasty weeds! I fear taking a walk on the hills now due to this fall.

My husband, neighbors and I would love to landscape are yards so they have a similar look. Since our yard has more useable space, my husband and I would like to take the slope to the north and build retaining walls and walking paths so he doesn't have to do a lot of mowing back there. We also want it welcoming to the dear, fox, birds and other wild animals that love to come through.

I'd be interested in seeing what others would do with space. Pictures, drawing or written ideas are VERY much welcome!