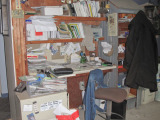 5 photos, 233 Views, Flag
My wife, Allie, has "converted" her gardening business greenhouse into her "office."

The entire glass wall acts as the greenhouse as it is south facing and gets more than sufficient light for propagation. Not all greenhouses have glass roofs, and in fact, this one did but we found it actually baked the plants. Cooked seedlings are not good for business.