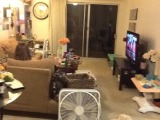 8 photos, 413 Views, Flag
It is a space around 15' x 15'. Currently I have a large beige L shaped couch, very comfy - not a beauty, that sits along the back wall and separates the living room/dining room with the backless square that flares out from the wall. The television is on a black pretty standard entertainment system. To the right of the couch, I have a small office/work space I created that contains a small table, a standard "target" like bookshelf, a little chair that I painted and reupholstered. I took scrapbook paper cut into squares (purple,teal,pink) theme and pinned them onto the wall to help separate the space. I would like to redo this with new colors.
In the middle of the space, I have a nice maple coffee table that is around 2.5' x 4. The couch has pillows I made from a target shower curtain (teal,white) and some black and white pillows. I would like to redo the color scheme of teal, coral & maybe yellow and white. I have fabric that is tough, an outdoor fabric that I am going to try to turn into my area rug. I got the idea from Pinterest. So the rug would be a turquoise and off-white design. I have 2 black and white framed long Beatles posters on the wall, a "artsy" framed temp control and a large mirror (2'x1.7') silver mirror hanging behind the couch. I need something for behind the tv. I also have a small table that is coral and white that just collects clutter, I'm going to get rid of it.