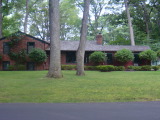 14 photos, 3,772 Views, Flag
Home started as 1700 sq. ft. three level split. 3 bedrooms, 1 & 1/2 bath, living room, kitchen/dining room, basement, one car garage and screen porch.


Finished area is 6400 sq. ft. with 5 bedrooms, 4 & 1/2 baths, sunroom, library, mudroom, upstairs utility room, studio, foyer, basement and walk-out patio. Not included in the 6400 sq. ft is a three car garage (24' x36') and fully acessable and conditioned attic(45' x @15')

I designed and built the structure myself (my first project). Design and built in 5 phases over 2 year period. I did have a mason do the brick work, all other work completed by me. Still working on the house.