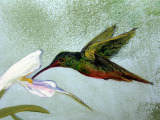 9 photos, 1,411 Views, Flag
Better pics-accidently deleted it all. I painted my son's room when he was a tween. He just wanted a toucan; I got carried away. Now he's 16 and way past ready for a change. It's a wrap-around mural (I'd painted clouds on the ceiling when it was a nursery, & they gotta go), and he was into studying the rainforest at the time.

He now wants a more neutral room-he has a brown/coffee Sami Hayek coverlet, sham, & a tan bed skirt. Furniture is mid-century simple & clean. The problem? He wants to keep the toucan-I'm not sure how that would look (it's about 3 feet tall) if we paint around it. Well, it's his room after all.