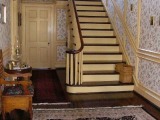 9 photos, 602 Views, Flag
This is from the Foyer looking up the stairs. The Living Room is on the right, with the Library behind it. The Dining Room is on the near left. The Kitchen is right behind that, on the left also. The Breakfast Room is straight ahead.

The central Foyer is a room with multicolored wallpaper in an oriental design, featuring small parrots and pineapples. The floors here, and throughout the house rooms are oak. There are two Persian carpets on the floor. This room also features top and bottom frame moldings. (Molding attached to the walls in frame shapes to accentuate the lines of the room.) before you (on the right) is a wide staircase, and to the left, a more narrow hall, leading to the rear of the house. The chandeliers and sconces in this room, and in all the other rooms downstairs, are original to the house. They have been re-plated in brass, and many of the globes and prisms have been replaced. They were originally made to produce light from both gas and electricity. The gas lines are still inside the walls. There are 57 globes and 424 prisms in the first floor light fixtures.