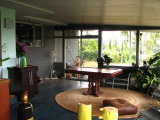 10 photos, 2,806 Views, Flag
Before, when we bought the house: The roof was good. The flooring wasn't. The Redwood walls leaked. The storm door wouldn't close. The flower bed (outside) was dead, except for termites. Extension cords had been run everywhere.

Fix up included: extensive DIY repairs, replacements, upgrades, installations, additions, cleaning, waterproofing, and painting. Still working on furnishing it.