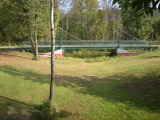 20 photos, 202 Views, Flag
My dad, I and a few other guys built 2 bridges: the 1st is a stainless steel driveway bridge, and the 2nd is a stainless steel walking bridge, both over the same ravine. Also, the driveway bridge holds 90 tons, it has 6 stainless steel I-Beams w/ 86 yards of cement as a foundation. Enjoy. BTW, these were built at our house in Elba, MN, USA. Thanks for viewing!

The engineering done was only to calculate how strong the beams would have to be vs the length of the beams to hold as much weight as 90 tons. Then we added the verticle beams for additional stability support.

ALSO, I forgot to credit my stepmom. The top of the bridge was made from the expanded steel for the weight and this material never gets slippery with ice and snow does not accumulate for additional weight - it was her idea!