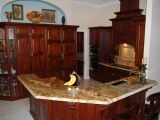 12 photos, 1,408 Views, Flag
Our original kitchen from the early 90's was okay, but not my style at all. It lacked color and depth. I was very over the hunter green accents. We wanted to create a beautiful traditional space with detail and character that would flow with the rest of the house. I just adore the end result. It was so worth the hard work and patience.

We did some of the work ourselves (The painting, the demo, the new floors, and the back splash.) The rest was done by our contractor.

Our family is really enjoying our new space. Take care!