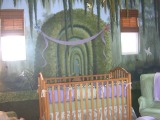 6 photos, 1,978 Views, Flag
This Fairy Garden Nursery was created with love for my baby girl, Brielle. It included her Fairy Godmothers (my sisters - Auntie Shell and Auntie Sheri) hovering over her crib to guard and protect her. The many details were painted with the mindset of entertaining baby while giving mommy time for a few extra zzzzzz's. On the ceiling, the clouds included shapes like a teddy bear, the letter B, hearts and a bunny to name a few.....There were ladybugs and butterflies scattered throughout the room for her to find and point out.
This room also included a hand made custom chandelier, crib bedding and curtains. For the chandelier, I took an old black chandelier, painted it creme and added custom lampshades. I glued purple satin fabric onto the shades then hot glued on tiny purple flowers that matched the bedding and added a satin rope trim to the edges. To add to the garden theme, I hung fake greenery purchased from the floral department at the local craft store. I then topped it off by making a satin fabric sleeve and bunching it up to hide the chain the chandelier hung from. For the final touch, a Styrofoam medallion was attached to the ceiling at the base of the cord.