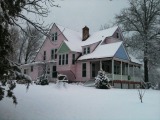 5 photos, 1,896 Views, Flag
Chamberlain Manor - 1899 Queen Anne

Situated on a 1.1 acre landscaped lot in a residential area of Hannibal MO, "America's Hometown" , and boyhood home of Mark Twain.

House was built by Wilbur F. Chamberlain, a Union Capt. During the Civil War, Hannibal Postmaster, a founder of a bank that still exists here, and Mayor of Hannibal.

When built, its location was the NW corner of the city limits. Therefore it was never a "country home" but rather in a neighborhood of large estate lots.

The house has only had five previous owners.

The house has great natural lighting through nearly 60 windows, much of the upper glass pieces are colored glass in blue, red, purple, orange, yellow, pink and green. It has been called the Rainbow House by some.

We call it Chamberlain Manor, and plan to open the house for tours, a B&B, and a Wedding chapel someday.