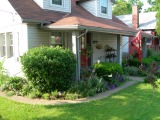 9 photos, 1,179 Views, Flag
The house dates probably to around 1900 and maybe even earlier. A business acquaintance in city politics is something of a local architectural historian as her office and connections has given her access to older plot and tax records. We've been able to sleuth out quite a bit so far. Pre 1924 info is based on old maps and fence talk to older neighbors who are second and third generation in the same houses. The story goes.....

The original house was a single story salt box 2 or 3 room log cabin, perhaps an out building or farm hand residence of what was once the Wycliffe farm, a large farm that existed over this neighborhood before the turn of the 20th century just across Main Street/Richmond Road from the Henry Clay Estate, (Secretary of State 1825-1829, Speaker of the House 1811-1825 and Senator for KY). It is believed that what is now the back, facing downtown, may have originally been the front. I'm told there was a fire in 1924 and the the original structure was gutted then rebuilt that year. This meshes with known records showing the road that is now Preston Ave. first being cut in that year and the house showing up on the tax rolls for the first time in 1924, said to be a common practice to first assess when there was a change in use of the structure and/or when the city first laid in road access.

This 1924 rebuild added a second story with two bedrooms. The original footprint is still all 10 to 12 inch yellow pine logs said to be plentiful here around that time set on a stone foundation with central log pilings down the center. The second story is rough honed heavy and medium timber. What was the kitchen of 1924 became a nice size pantry when in 1960 a new kitchen addition was added across the back.

In 2000, the house was remodeled again and all the electric, plumbing and mechanicals were redone at that time. A second story bath was also added that year. It was a nice surprise the day we closed and stayed our first night in the house to find photographs from previous owners who had done work and additions to the home laid out in the kitchen. If we ever leave here we must keep this quaint tradition alive and continue to pass these and our own down to the next owners. It gives one the feeling that this house has been continuously loved over the years.

The current configuration is 3 bedrooms-2up&1 down, 2 baths-1up&1down, formal living room, formal dining room, pantry/laundry room, kitchen, basement. What is supposed to be the master bedroom we use as a study/guest room and we use the upstairs 3rd bedroom as a sitting room to make a master suite of the second story.