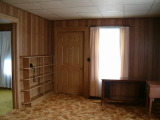 4 photos, 314 Views, Flag
1919 house, living room was from the 70's. dark brown wood paneling walls, drop ceilings, brown old gross shag carpet.
Now !!
10 ft. ceilings, wood floors that need to be redone still, trim done in white and the plaster walls are done with a grand stand tan color paint. This room had to be done with very little money. But alot of work to fix the walls and the ceiling. Many rooms to do still. I made the drapes myself they are tan and navy blue. I'm not sure I like them. Thing of changing them. We will be getting a new sectional sofa in a dark brown color, leather or Mico-Fiber ? not sure what one, HELP ! We are also getting a new area rug, the one we have is to small. 6x9 and we need a 10x12. I don't what color to get. I want some thing soft under foot. I know that for sure.