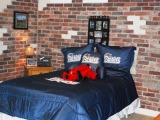 5 photos, 995 Views, Flag
Our 13 yr old son's bedroom, this is the cleanest this room has ever been!!
The walls were tiled with a product called thin brick, it's actual brick but less than a 1/2 inch thick. My tile guy had never done one before but he did an awesome job, the white spaces are spots I had him do to make it look like the brick fell off, he placed the brick and pulled it so that the plaster would have the look, some of the bricks are called clinkers, they have a "bump" to them, once set he then filled it with the gray old looking grout.. I just marked the walls as to where I wanted the "fall look" and my tile man did the rest, This room is not one a teen will out grow and can be changed around from sport to sport or whatever one wants. I love this room especially when it's CLEAN...Granted his furniture doesn't really match but I figured when he gets out of his rough stage and can appreciate fine furniture it'll be replaced.. For now it'll do..