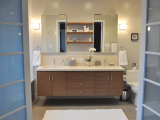 15 photos, 8,970 Views, Flag
We recently (finally) renovated / remodeled our master bathroom that had been sitting gutted since the day we bought our house - over 3 1/2 years ago. We finally were able to borrow the lump sum needed to do this massive makeover. The issue with the original bathroom - other than the fact that it was super dated (green wallpaper) and yucky, was that the main drain was cracked and water was leaking to the floor below - into the walls and down to the floor. This is a second story bathroom and below it is the kitchen and dining room. Sadly the previous tenant was using the bathroom even with the broken drain pipes which had caused mold in the walls which we had to get professionally cleaned! Anyway, all that's in the past now and we have a fabulous modern (but comfortable) master bathroom that feels like an expensive hotel / spa and it even has a view of the bay and golden gate bridge!

feel free to follow our blog for the rest of our adventures in home makeover here - http://fixerwithaview.wordpress.com - we even have a blog section about how we almost got onto HGTV's curb appeal - shot the reveal and everything before our project was cancelled.