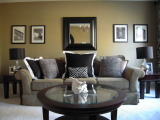 20 photos, 10,498 Views, Flag
This has been my 'problem child' over the past 3 years! When we bought the house, it had dark burgundy carpeting, oak molding and victorian accents. Uggghh! Difficult for furniture placement because of three of the four walls having a window or door opening. Soooooooo, after *many* redos, I have arrived at what I now LOVE.
I originally wanted to buy new furniture, because I was just wanting to get away from the green. Now, though, I think it works.

The paint is a gray/beige/green, depending on the time of day. It is NOT olive as some of the pics may show. The paint color is actually a product of Sherwin Williams Harvest Gold paint + black exterior satin paint. Had nothing to lose and was feeling a bit adventurous at the time :)

I found the lamps at Pier 1 last week...for $17 each on clearance! Were originally $70 each.

The drapes are Waverly Black and White damask from Target...identical to what I have in the adjoining LR.

Pillows are Waverly Madison print...at Target now.

This room has no overhead lighting...just lamps on a switch (which honestly makes it feel very intimate). I found the chandelier at a friend's antique shop. Original plan was to put it in the gazebo, but after seeing it sitting on the floor here, I knew it was meant for this room! Love the way the candlelight reflects off of the crystals at night.
Mirror is from Target, Global Bazaa 2008.

I took the B/W pictures of architecture from our old downtown area.
Let me know what you think!