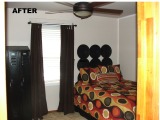 12 photos, 1,258 Views, Flag
Before and After Pitures show it all!
My son's SPACE themed room was filled with clutter and had poorly placed furniture. It's been this way since he was 5 and not suitable for a growing 13 year old. We sent him away to camp for a week and he returned to an extreme makeover, he was clueless! Orange is his favorite color, so a couple months in advance, I selected bedding and went from there. I reused items, such as his dresser and shelving by painting them. I used 5" bed raisers and now have 6 plastic boxes for neat storage ($4.50 each at Walmart), instead of toy boxes. The bed skirt was made from a $7 flat sheet. I measured from the box spring to the floor, added 4 inches and atttached it to the boxspring with upholstery tacks. I used the existing hem, so no sewing required! Straw circle placemats for the headboard to accent the bedding pattern. The curtains are microfiber and by using one panel, I created a short curtain for above the desk, had to hem the bottom and sides. Then a skirt to hide the computer tower by adding a top hem and hung with upholstery tacks, my new best friend. I have one panel left over for future accents...maybe a chest for the foot of the bed and use it for a top cushion or throw pillows. I didn't have the heart or time to tear Spaceship Columbia off the wall, so we covered it with beadboard & trimmed with moulding. Let me warn you...there isn't a roller nap that will get in the grooves...they need to be painted with a brush. It was very time consuming and we felt like Tom Sawyer and Huckleberry Finn! We added a remote controlled ceiling fan with light and a flushmount light above the computer. Added a full bed, lockers and some extra shelving and storage bins. In the future, we're changing the trim & doors to white. Our son is picking a couple pieces of artwork and that should finish it up. It took my husband and I two whole days of hard work, but the outcome was well worth the surprise on our son's face!