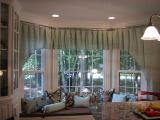 21 photos, 2,041 Views, Flag
This is a kitchen renovation done in stages. The first images are of the space before we moved in. Very dark and dreary! The next images are "interim" in that the counters had been changed to granite, the flooring hardwood, the backsplash was tiled, and all electrical was updated.

In the final pictures, we painted the walls a pale robin's egg blue, installed a window seat in the bay window, and island with storage and granite, new cabinetry for storage and display, converted the range to gas with a double convection oven, installed an exhaust hood, counter depth fridge and new dishwasher, painted all cabinetry a bright white, and added can lighting.

Our family can eat casual meals around the island while enjoying a slim flatscreen installed over the range mantel to for TV viewing. (We also have a formal dining room and an informal dining table in an adjacent sunroom.)

The result is bright, fresh, up to date and yet very in keeping with the character of our brick colonial home. This was also a very green make-over in that while a very dramatic change occurred between the interim and finished kitchen, we made a conscious decision to retain our existing cabinetry (just paint it), and retain the existing counter granite, even though it would have been easier to gut and start over. All appliances are Energy-Star rated. The reward for this thriftiness was a $15,000 total cost and an 8 week total time frame!