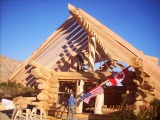 10 photos, 1,291 Views, Flag
A hand crafted log cabin in the California Desert along side the White Water River, White Water Canyon, only 1 1/2 hours east of LA, 10 miles northwest of Palm Springs.
A natural wild life sanctuary and oasis in the desert with hundreds of old growth cotton wood trees and native vegetation - A rich riparian river habitat created by the underground damming effect of the San Andreas Fault, which the log cabin sits atop! Construction completed and final inspection passed, August 17, 2011. SEE PHOTOS.
Next is deck/patio/landscaping! Years later we had no idea the log cabin would become the entrance and beginning of America's newest national monument - The Sand to Snow National Monument! We feel it is very important the log cabin is in harmony with the surrounding Native American lands and the natural oasis in the desert, with the river running through it!