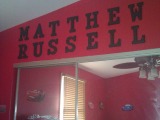 11 photos, 749 Views, Flag
After 3 yrs of trying to get our son Matty into a movie theatre, who would have thought that Disney Cars II would be the movie that influenced his whole lifestyle!?!
Now, he worships everything Cars, from clothing, silverware, toiletries, to his bedroom's decor. The room is still in progress, eventually we'd like to add Cars bedding, curtains, and maybe a couple of black and white Cars lithographs over his bed (which is why I left those two spaces empty). This time, his room is a lot more simplyfied than his Safari toddler room.