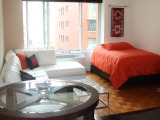 24 photos, 587 Views, Flag
I am fortunate to be able to travel all over the world for work and pleasure and have picked up many beautiful pieces along the way, but didn't want my NYC studio to look like a souvenir shop! This was my attempt at a young, bright, modern, global chic living space!

I used paint to accentuate the colors in my various textiles and art pieces. It was a cheap and cheery way, I think, to give my space the energy and warmth that I wanted. I also didn't want the space to scream of any one country; my space features art and textiles from Tajikistan, India, Pakistan, Kenya and Mexico.

I love to hear your feedback on how I did. I still have a large open white wall that I would like to adorn in some way...any ideas?