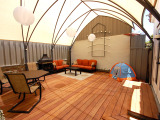 30 photos, 2,089 Views, Flag
Our little eighth-of-an-acre plot in Los Angeles came with a very small, 20'x20' back yard. It sat unused for years. This Spring, I decided to re-do the whole thing as one big deck with a pergola cover. I did all of the work myself -- fastening every board, setting every stone, sewing together the sections of shade fabric, bending and welding every piece of steel. Everything.

I think DIY-ers will enjoy the story -- especially when you get to the point where I had to find a way to 'levitate' the entire roof assembly of the pergola seven feet into the air with only my two hands, some spare lumber, a home-made pulley and a cordless drill.

There is more greenery in the deck's future -- and there are some parts that are still not finished. But after three months of hard work, the thing is now up and running as a place for my family to -- finally -- spend some time together in what was once the back yard.