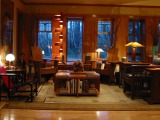 10 photos, 972 Views, Flag
The floorplan was designed by my wife, and most of the interior furniture and artwork were selected by me.
Because this is an area near the ocean that can get battered by hurricanes, we chose to have a one foot thick concrete shell, with rebar running through it, bolting the roof to the house. This shell was then faced with grey brick. The depth of these walls affords each window its own, built-in window seat.
The main part of the house is designed around an open floor plan with an unobstructed view from the living room in the front to a sitting room and studio at the back of the house. The master bedroom and bath come off of one side of this space and a guest bedroom and bath are off the other. Uniquely, there is a room behind the open galley kitchen which houses a second workspace for computer, books, flat files for artwork and prints, floor to ceiling open shelving to display not only my figures but many other pieces of art.
It`s all on one floor and is extremely livable.
There is also a two-car garage.