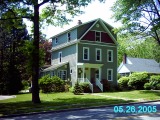 9 photos, 1,324 Views, Flag
Take a an old 1860's home and update for today's living.
Our wish list was to add a deck, modern kitchen, breakfast nook, new powder room, master bath, and two bedrooms in the attic. Along the way, we reopened the fireplace in the dining room, added central air, and modernize the systems. Oh, tried saving the old horse hair plaster walls with new electical wires being run from the outside of the home. Our young electrican loved hanging off a ladder doing that (not). We started by gutting the kitchen and adjoining dining room wall to see what was up. The third floor attic became the master bedroom, sitting room with a gas fireplace & full bathroom with a corner shower. My son liked the house so much after we finished it, he & his wife purchased it from us.