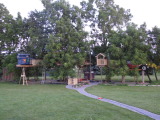 18 photos, 505 Views, Flag
Here you see part of my little girls back yard playground that I have been building over the past seventeen or so months. These Tree Creations in Geneseo, NY are a growing tree house village (at a private residence), consisting of themed tree houses connected with rope bridges for all to enjoy!

My Tree Creations were inspired by Maurice and Marie Barkley of Henrietta, NY. A visit while in college made me think "This would be nice to have for my grandchildren one day," and the thought was filed away.

In May of 2011, a freak accident happened that took the eyesight from my left eye. A dry paint slug from an unplugged, disassembled latex paint sprayer shot out like a rubber bullet, hitting my nose. The Doctor said that if it had hit my eye, I would not be here today. This experience helped me realize the true meaning of "carpe diem" (or "seize the day") and that I may not be here for my grandchildren. When my daughters asked for a tree house, I got to work.

Being the princesses that all daughters is to their father, the first tree house started was one with a Castle theme. With a deck size of almost 120 square feet, it was to be grand in every way.

During construction of this castle, we took a trip to the Long Island Children's museum. At the museum, some automotive parts were used in creating a make-believe automobile that was being enjoyed by all who touched it. Jokingly, I said to my wife, "we should put a Pinto in the tree" and then in an "ah hah" moment, my wife and I said "The Triumph." (the car seen as my HGTV's profile picture).

In February 2012, a 1946 Triumph Renoun was dragged out from my scrap pile to breathe new life. The Triumph and the Castle were being built simultaneously with a purpose - to entertain children. I immediately remembered Maurice and Marie Barkley and their tree house village.

I invited Mr. Barkley to see what he inspired me to build, and he informed me that he could no longer perform maintenance on his tree houses, and made a decision to donate the remains of their MYSTREES tree house village to the Tree Creations complex. I am presently trying to restore some of these tree houses in honor of the work and inspiration that Mr. Barkley gave me.

The car was resurrected and re-purposed as a tree house and perched upon telephone poles with rigging that I designed and built. Each of the tree houses (including the castle) are suspended by aircraft cable to allow for trees to sway in different directions (as not to tear the decks apart), to let the trees grow (without drilling into the trees), and to allow for adjustment (in case the rate of tree growth differs from tree to tree). Most tree houses are between 10 and 12 feet in the air, with the lowest being the car (at 8 feet), and the highest being our church themed tree house deck at 20 feet. The tallest point in the tree houses is the Church steeple where the tip is just over 32 feet off the ground!

Our village presently consists of a 1946 Triumph 1800 Saloon automobile, a veranda, a village square (roughly 250 square feet, which features a retractable set of stairs, a dumbwaiter, an elevator, and built in seating), a tea room, a wizard's den, the Margrose castle (on roughly a 120 square foot deck with towers over 15 feet tall), and a church (complete with stain glass windows and bells in the bell tower).

Present items under construction to add to our other seven tree houses include a "House of illumination", Galilean themed observatory, and a music themed tree house that includes a hand built / home-made pipe organ and other instruments for children to play!

Being a fourth generation "Townie" of Geneseo, NY, the tree house village will be around for generations to come as positive memories to all who help me build and play in it.

Since the tree house complex is at a private residence, we would request that any visits are by appointment please. All are invited to come and play! These are difficult economic times and I do not want to exclude anyone, so I am trying to keep this at no charge to enjoy!

Keep in mind, "we are on this earth but once, so any happiness we can bring or any joy we can give, do it now - without haste, for we shall not pass this way again" -unknown.

Now let's have some fun!


If you rate my photos and the rating is NOT a "5", could you PLEASE leave a comment as to why it is not Excellent? I would love to these creations the best they can be for my little girls, my family, my friends, and any visitors that would like to enjoy them, and only your comments can help me to achieve this. If you are in Geneseo, NY please feel free to stop by and visit (and you can find us in a google search as Tree Creations in Geneseo) for our contact information. Thank you again for visiting!