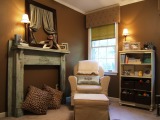 9 photos, 7,531 Views, Flag
This boy's nursery was also done on a budget. I chose my fabrics first and decided to go with chocolate brown and a robin's egg blue (which morphed into more of an aqua). Initially I wasn't sure of a "theme" but knew that I wanted a rustic feel. The zebra rug, sock monkey, and giraffe display made it obvious that subconciously I had chosen a jungle theme =)

Here is the furniture cost breakdown:
Convertible Dropside Crib @ Target.com.....$125
Changing Dresser @ JC Penney.....$170
Bookshelves @ JC Penney.....$100
Dutailier Glider & Ottoman (a splurge!) @ Albee Baby.....$570
Rug @ Target.com.....$53

With much planning and a tremendous amount of help from Gigi (my mom), this room has come to be one of my favorites. Hope you enjoy!