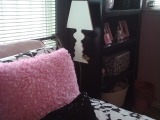 10 photos, 3,075 Views, Flag
My 2 youngest girls recently stopped sharing a room, so they each got to pick out a color scheme and theme for their new "big girl rooms". You can see how the old room looked in my other uploads.
The older of the 2 girls, Raine, picked a pink, black, and white Parisian theme. She is a huge Audrey Hepburn fan (at 7 years old) so I tried to make the room glam, yet simple. This is the result. The whole redo cost under $350. The bedding is from PB Teen, the table and chairs were 2 thrift finds that I redid, the shelves were old ones from our living room that we gave new life to in this room, and the bed frame and headboard were found on the side of the road for trash pickup. I love to take old things, give them some TLC, and turn them into something beautiful!