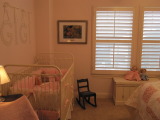 10 photos, 2,907 Views, Flag
Welcome to Gigi's Room. For my first and only girl I wanted to create a vintage shabby chic room that used elements from my family's past. I did not have the budget to buy all new furniture nor did i want that feel. The rest of my house is modern so I wanted the experience of stepping back into the past with this room.

I started with selecting a vintage rose pattern from the Shabby Chic bed linens from Carousel Designs - www.babybedding.com and went from there. I searched craig's list and ebay for an iron crib till I found the perfect one. We nabbed this crib for way below what they retail for. We wanted to keep a queen-sized bed in her room to accomodate me while nursing and also be a place for grandmothers to stay when they come to town. We figured she would use this bed as she grows older. My mother made the quilt from assorted fabric squares from the 1920's collection found at a local quilt shop. The quilt is absolutely stunning in person and is really the element that pulls it all together.

I bought the changing table (a 1950's dining hutch) and the cedar chest from a local antique mall for a total of $300 (a steal!) The hutch works well for a changing table and has drawers and cabinets to store all the assorted diapering needs. I plan to use the cedar chest for her toy box. The nightstand is hand-painted from the Horchow/Neiman Marcus outlet - another steal! I also bought the crystal lamps from there - they are stunning crystal lamps with silk shades. The little rocking chair was my mothers and features a rose on the cusion, needlepointed by my sweet grandmother. There is an antique magazine rack that belonged to my grandparents and I plan to use this for her little books. The dolls on the cedar chest were mine as a girl. They are Madame Alexander dolls but are very raggedy. I hope Gigi loves them as much as I did. The picture hanging by the crib is a vintage print I had reframed. It hung in my mother's room as a little girl. There are several sweet trinkets sitting on the shelves of the hutch that are very special to me and someday I hope special to her: my first ballet shoes, another madame alexander doll I loved, my family's silver baby cups, a porcelin bunny given to me from my grandmother, etc...

The paint color is called Pink Kiss and is barely barely pink. It goes well with our creamy trim and mouldings.

Yesterday we hung the finishing touches - creamy iron letters with matching grograin ribbions above her crib.

All we need now is a baby!

Any comments...