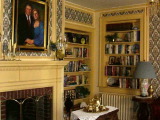 20 photos, 840 Views, Flag
This is the Living Room. The doors to both this room, and into the dining room are about 50 inches wide. We removed the doors and stored them in garage attic. This room also features top and bottom frame moldings. The room boasts an arts and crafts styled wallpaper with shades of blue, green and terra-cotta on a cream background.

In front of you are french doors to the Sun Room. To the right of the door is a Victorian bow-front curio cabinet, which holds my matte finish Lladro figurine collection. Over the curio hangs a landscape of the Noland Trail in Autumn painted by my aunt, Martha Brogley.

The wall to the right holds two windows draped with rosy terra-cotta moirè swags, and asymmetrical jabots, with cream moirè linings. On the wall is an antique German regulator clock.